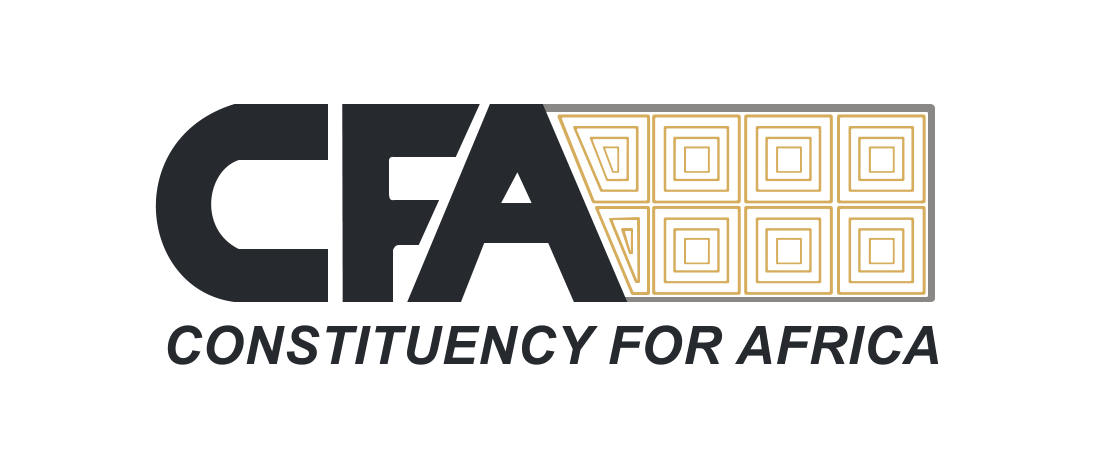 CONSTITUENCY FOR AFRICA.
---

---
The Constituency for Africa (CFA) was founded in 1990, when a group of concerned Africanists, interested citizens and Africa-focused organizations developed a strategy to build organized support for Africa in the United States. CFA was charged with educating the U.S. public about Africa and U.S. policy on Africa; mobilizing an activist constituency for Africa; and fostering cooperation among a broad-based coalition of American, African and international organizations, and individuals committed to the progress and empowerment of Africa and African people.
CFA's stellar reputation was built on its Town Hall Meeting strategy which covers topics such as business, trade and investment, human rights, culture, governance, media, democracy, and the HIV/AIDS pandemic. The meetings have been held in more than thirty cities and have attracted nearly 15,000 participants.
CFA also founded and sponsors the annual Ronald H. Brown African Affairs Series which is held in conjunction with the Congressional Black Caucus (CBC) Legislative Week each September. The series honors the late U.S. Commerce Secretary for his exemplary accomplishments in building strategic political, economic and cultural linkages between the United States and Africa. More than 1,000 concerned individuals and organizational representatives attend each year, in order to gain valuable information and build strategic linkages to tackle African and American challenges, issues and concerns.
---
---
Table Mountain and booming Cape Town in South Africa (c) Andre Fraser CFA is a non-partisan organization and its Board of Directors reflects some of the most talented and respected voices on African affairs. For almost two decades, CFA has worked to educate Americans about the critical challenges affecting Africa, and to encourage a strong public and private partnership to address issues of concern to the continent. CFA has been recognized as a major contributor toward the formulation and execution of a United States policy towards Africa.
In fact, CFA was credited with fostering the necessary grassroots mobilization to spur the successful passage of the two most historic pieces of American legislation affecting the Continent of Africa: the African Growth and Opportunity Act (AGOA) and the Global AIDS Trust Fund. CFA will continue to help shape a U.S.-Africa Foreign Policy agenda with a particular focus on the HIV/AIDS pandemic, debt relief, conflict resolution and trade and investment.