Cannabis Science Launches Its New Corporate Website
---
IRVINE, CA, Aug. 21, 2018 (GLOBE NEWSWIRE) --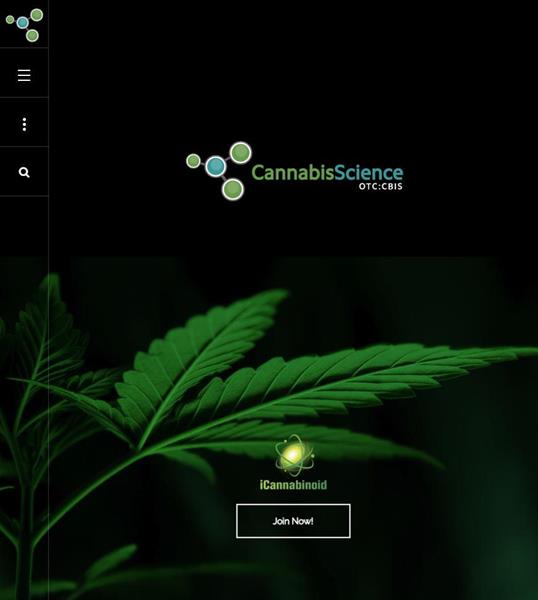 Cannabis Science, Inc. (CBIS), a U.S. company specializing in the development of cannabinoid-based medicines, is pleased to announce the launch of the Company's re-designed corporate website. CBIS' new website is an innovative technology platform that will enable the Company to improve information-sharing with patients, collaborators, stakeholders, and shareholders.
Please visit CBIS' new website at http://www.cannabisscience.com.
As stated in the previous news release, CBIS is also preparing to announce key management changes, as well as advances in its drug development programs, University economic development programs, new acquisitions, new product releases, and additional dispensary openings. Cannabis Science is focusing on becoming more interactive and data-oriented in order to provide the public with better access to useful CBIS information.
Additionally, Cannabis Science's financial team expects to bring the Company's regulatory filings up-to-date over the coming weeks.
Cannabis Science's objective is to create a vertically-integrated organization, through investing in the organic growth and development of the Company's operational capabilities, as well as through acquisitions. CBIS intends to control the development of its medicines from farm-to-bedside, and firmly establish the Company as a leader and recognized innovator in the market for cannabinoid-based medicines.
"As we continue to build and expand our vertically-integrated organization, the strategic application of technology will improve our operational effectiveness and should contribute directly to our bottom line," stated Mr. Raymond C. Dabney, CBIS' President, Chief Executive Officer (CEO), and Co-founder. "Our new website will help us streamline communications with our partners and collaborators worldwide, and fully complements CBIS' recently-launched online platform, iCannabinoid, the Company's state-of-the-art, social media and educational platform."
iCannabinoid is designed to serve as an information center, resource hub, and support group for all seeking alternative cannabinoid treatments including patients, advocates, doctors, researchers, parents, lawyers, growers, journalists, government, private-sector leaders, community organizers, and others.
Please visit iCannabinoid at www.icannabinoid.com
Cannabis Science's primary objective is to research and develop U.S. Food and Drug Administration (FDA)-approved, cannabinoid-based medicine to fight a number of targeted critical ailments, including various Cancers, Neurological Conditions, PTSD, Sleep Deprivation, Chronic Pain, HIV/AIDS, Autism, Parkinson's Disease, Epilepsy, Chronic Obstructive Pulmonary Disease (COPD), and others. CBIS and its collaborators are well underway on a number of research projects targeting Lung Cancer, Pancreatic Cancer, Chronic Pelvic Pain, and Oro-bucco-lingual Dyskinesias. To help accomplish this, Cannabis Science recently launched the Cannabis Science Global Consortium as a framework and platform to cooperate and collaborate with stakeholders worldwide.
CBIS' new website will facilitate information-sharing among members of the CBIS Global Consortium, among others, and help link universities, foundations, corporations, and individuals to share research, ideas, and other relevant information, as well as to implement a cutting-edge research program to develop medicines and delivery mechanisms from bench-to-bedside.
The new website organizes the Company's information in easily accessible sections to provide details on CBIS' collaborations, projects, products, pharmacies, and more. "Our new website is a one-stop shop for all things CBIS," stated Mr. Dabney. "We have so many exciting and promising collaborations and projects underway and under development. And these initiatives are global. Being able to communicate our activities fully and promptly publicly will help us share the CBIS story to so many more people. I encourage everyone to visit our website today and come back often to see the new interactive features and changes coming in the near future."
About Cannabis Science, Inc.

Cannabis Science, Inc. takes advantage of its unique understanding of metabolic processes to provide novel treatment approaches to a number of illnesses for which current treatments and understanding remain unsatisfactory. Cannabinoids have an extensive history dating back thousands of years, and currently, there are a growing number of peer-reviewed scientific publications that document the underlying biochemical pathways that cannabinoids modulate. The Company works with leading experts in drug development, the characterization of medicines, and clinical research to develop, produce, and commercialize novel therapeutic approaches for the treatment for illnesses caused by infections as well as for age-related illness. Our initial focus is on cancers, HIV/AIDS, and neurological conditions. The Company is proceeding with the research and development of its proprietary drugs as a part of this initial focus: CS-S/BCC-1, CS-TATI-1, and CS-NEURO-1, respectively.
Forward-Looking Statements

This Press Release includes forward-looking statements within the meaning of Section 27A of the Securities Act of 1933 and Section 21E of the Securities Act of 1934. A statement containing words such as "anticipate," "seek," intend," "believe," "estimate," "expect," "project," "plan," or similar phrases may be deemed "forward-looking statements" within the meaning of the Private Securities Litigation Reform Act of 1995. Some or all of the events or results anticipated by these forward-looking statements may not occur. Factors that could cause or contribute to such differences include the future U.S. and global economies, the impact of competition, and the Company's reliance on existing regulations regarding the use and development of cannabis-based drugs. Cannabis Science, Inc., does not undertake any duty nor does it intend to update the results of these forward-looking statements. Safe Harbor Statement. The Private Securities Litigation Reform Act of 1995 provides a 'safe harbor' for forward looking statements. Certain of the statements contained herein, which are not historical facts are forward looking statements with respect to events, the occurrence of which involved risks and uncertainties. These forward-looking statements may be impacted, either positively or negatively, by various factors. Information concerning potential factors that could affect the company is detailed from time to time in the company's reports filed with the Securities and Exchange Commission.
Contact Information

Cannabis Science, Inc.
Mr. Raymond C. Dabney
President & CEO, Co-Founder


This email address is being protected from spambots. You need JavaScript enabled to view it.


Tel: 1-888-263-0832