Cannabis Science's University Scholarship Expo Begins This Weekend; Register Now at the Company's Flagship Location: CBIS Cali Rx, 14006 Ventura Boulevard, Sherman Oaks, CA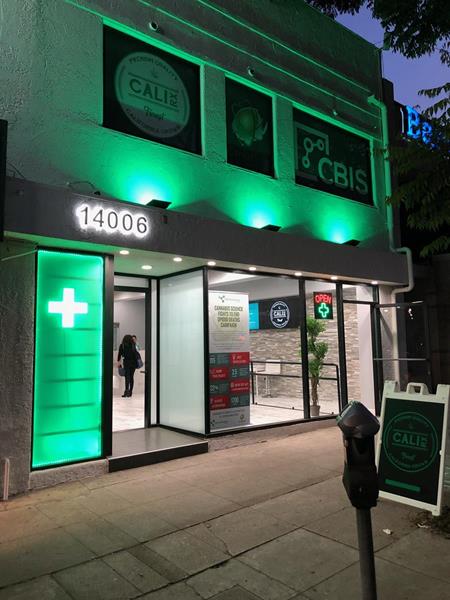 Cannabis Science, Inc. (CBIS), a U.S. company specializing in the development of cannabinoid-based medicines, is pleased to announce that the Company's latest University Scholarship Expo will begin this weekend at Cali RX, Cannabis Science's flagship location. Cali RX is located at 14006 Ventura Boulevard, Sherman Oaks, California 91423.
*** For a limited time, please preview Cannabis Science's TV commercial for the upcoming Ventura Blvd, University Scholarship Expo on our website's home page:
*** Please REGISTER @ Ventura Boulevard flagship location for this weekend's events:
CBIS Cali RX
14006 Ventura Boulevard
Sherman Oaks, California 91423
Telephone: 818.386.8335
***Another expo will be held at the newest Cannabis Science location, CBIS Nexus RX. Nexus RX is located at 4922 West Pico Boulevard, Los Angeles CA, that is currently undergoing final renovations and will open for business soon.
"As previously stated, these beautiful, state-of-the-art, retail facilities are designed to connect Cannabis Science directly with patients and doctors. Additionally, these facilities provide our company with a platform to contribute to the development of the communities in which we operate," stated Mr. Raymond C. Dabney, Cannabis Science's President, Chief Executive Officer, and Co-founder. "As a good corporate citizen, Cannabis Science, through our partners, intends to offer educational opportunities for people in traditionally underserved communities."
Cannabis Science's Scholarship educational partners include American States University (ASU) and American Heritage University (AHU) School of law, and they collectively provide students with opportunities of a lifetime!
American Heritage University (AHU) School of Law
The AHU School of Law's mission is to provide a high-quality, affordable legal education using the most effective educational technology available. The primary objective is to educate and prepare students for the legal profession. AHU School of Law provides its students with an understanding of the basics of legal theory and practice so that they develop a firm foundation in the law as it functions in business, government, and society in general.
American States University (ASU)
ASU offers thirty-seven state-approved post-secondary educational programs in the Departments of Agriculture, Arts, Business, Certified Professional, and Technology in a unique hybrid structure of online, in class, and in field education. Its primary purpose is to provide professional training in agricultural hemp research and development for pharmaceutical drugs targeting critical ailments such as Cancer, Epilepsy, Chronic Pain, Parkinson's Disease, Arthritis, PTSD, HIV/AIDs, and other industries such as Alternate Biofuels, Construction, Clothing and Automobile Materials, business administration, and other numerous certifications. The University aims to provide affordable quality education to its students so as to achieve their career goals and excel in their chosen professions.
Through the Company's retail facilities, Cannabis Science will also continue to promote iCannabinoid, the recently launched high-tech tool for the cannabis industry.
iCannabinoid
iCannabinoid is the premier online platform for all things Cannabinoid-related, and creates a community of patients, doctors, researchers, parents, lawyers, growers, journalists, government and private-sector leaders, community organizers, and other interested parties. Cannabis Science encourages its customers to inquire about iCannabinoid, the Company's online, high-tech social platform, at all retail locations. Cannabis Science's aim is to have a fully-integrated community, by providing the experience of brick-and-mortar locations, as well as an online community for sharing experiences with medical marijuana and learning about the industry.
To connect, learn, and share, please visit our website at:
About Cannabis Science, Inc.

Cannabis Science, Inc. takes advantage of its unique understanding of metabolic processes to provide novel treatment approaches to a number of illnesses for which current treatments and understanding remain unsatisfactory. Cannabinoids have an extensive history dating back thousands of years, and currently, there are a growing number of peer-reviewed scientific publications that document the underlying biochemical pathways that cannabinoids modulate. The Company works with leading experts in drug development, medicinal characterization, and clinical research to develop, produce, and commercialize novel therapeutic approaches for the treatment for illnesses caused by infections as well as for age-related illness. Our initial focus is on cancers, HIV/AIDS, and neurological conditions. The Company is proceeding with the research and development of its proprietary drugs as a part of this initial focus: CS-S/BCC-1, CS-TATI-1, and CS-NEURO-1, respectively.

Forward-Looking Statements

This Press Release includes forward-looking statements within the meaning of Section 27A of the Securities Act of 1933 and Section 21E of the Securities Act of 1934. A statement containing words such as "anticipate," "seek," intend," "believe," "estimate," "expect," "project," "plan," or similar phrases may be deemed "forward-looking statements" within the meaning of the Private Securities Litigation Reform Act of 1995. Some or all of the events or results anticipated by these forward-looking statements may not occur. Factors that could cause or contribute to such differences include the future U.S. and global economies, the impact of competition, and the Company's reliance on existing regulations regarding the use and development of cannabis-based drugs. Cannabis Science, Inc., does not undertake any duty nor does it intend to update the results of these forward-looking statements. Safe Harbor Statement. The Private Securities Litigation Reform Act of 1995 provides a 'safe harbor' for forward looking statements. Certain of the statements contained herein, which are not historical facts are forward looking statements with respect to events, the occurrence of which involved risks and uncertainties. These forward-looking statements may be impacted, either positively or negatively, by various factors. Information concerning potential factors that could affect the company is detailed from time to time in the company's reports filed with the Securities and Exchange Commission.